Rex and Jade are the perfect couple…too bad their families are stuck in a Hatfield and McCoy situation. Can their forbidden love overcome all obstacles?
Check in with the adorable Colorado town and see what is in store for the Rex Braden. Typically the woman is the focal point of most romance stories. Melissa Foster tosses expectations out the window and we primarliy follow Rex's thoughts and feelings. I loved this switching of traditional roles.
It is 100% a love story and one that you will love 100%. Pick up your copy and enjoy the trip to a quaint ranch in rustic Colorado.
NEWLY RELEASED……..
Book #2 The Bradens, Love in Bloom Series #5
You met Rex Braden in Lovers at Heart, Book One of the The Bradens (Love in Bloom Series). Jade Johnson is about to turn his comfortable rancher's life upside down. Don't miss this powerful love story.
Rex Braden is wealthy, hard working, and fiercely loyal. Sweat at his brow, he works the family ranch by day, then kicks back at night with part time lovers who require nothing more than his physical presence a few times each week. But that was before. Before Jade Johnson, the daughter of the man his father has been feuding with for over forty years, moves back into town.
After ditching a horrific relationship—and her veterinary practice in the process—Jade Johnson returns to the safety of her small hometown and finally finds her footing. That is…until her horse is injured and Rex Braden comes to her rescue. The last thing she needs is a bull-headed, too-handsome-for-his-own-good Braden complicating her life.
Despite the angry family history, sparks fly between Rex and Jade, and attitudes follow. Fifteen years of stifled, forbidden love stirs a surge of passion too strong for either to deny—and the rebel in each of them rears its powerful head. Loyalties are tested, and relationships are strained. Rex and Jade are about to find out if true love really can conquer all.
DESTINED FOR LOVE is part of the 9 book Love in Bloom series
**CONTENT WARNING: Due to mature content, recommended for readers aged 18+**
Buy the book from……
Amazon.co.uk
Amazon.com
Barnes and Noble
KOBO
About the Author
Melissa Foster is the award-winning author of a number of International bestselling novels. Her books have been recommended by USA Today's book blog, Hagerstown Magazine, The Patriot, and several other print venues. She is the founder of the Women's Nest, a social and support community for women, the World Literary Cafe. When she's not writing, Melissa helps authors navigate the publishing industry through her author training programs on Fostering Success.
Melissa hosts an annual Aspiring Authors contest for children, she's written for Calgary's Child Magazine and Women Business Owners Magazine, and has painted and donated several murals to The Hospital for Sick Children in Washington, DC. Melissa's interests include her family, reading, writing, painting, friends, helping others see the positive side of life, and visiting Cape Cod.
Melissa is available to chat with book clubs and welcomes comments and emails from her readers. Visit Melissa on The Women's Nest or her personal website.
Follow the Author
Facebook; Twitter; Google+; Goodreads; Pinterest
Follow the Book Tour

ALSO AVAILABLE Book #1 Snow Sisters, Love in Bloom Series Sisters In Love
DANICA SNOW has always been the smart, practical, and appropriate sister. As a therapist, she prides herself on making reasonable, conservative choices, even if a bit boring, and as part of the Big Sister Program, she has little time for anything more in her life. BLAKE CARTER is a player. He never gets bored of conquering women, and with his sexy good looks and successful lifestyle, he has no trouble finding willing participants. When his friend and business partner dies in a tragic accident, he suddenly, desperately, wants to change his ways. The problem is, he doesn't know how to stop doing what he does best. WHEN BLAKE walks into Danica's office, the attraction between them is white hot, but Danica isn't the type to give into the heat and risk her career. Danica's desire sets her on a path of self-discovery, where she begins to question every decision she's ever made. Just this once, Danica wants to indulge in the pleasures of life she's been so willingly ignoring, but with her Little Sister in turmoil and her biological sister's promiscuousness weighing heavily on her heart, she isn't sure it's the right time to set her desires free. Buy the book from Amazon.co.uk, Amazon.com, Barnes and Noble, KOBO
Book #2 Snow Sisters, Love in Bloom Series Sisters In Bloom
You loved Danica and Kaylie in SISTERS IN LOVE, find out what happens next with SISTERS IN BLOOM Kaylie Snow has always been the fun, flirty, pretty sister. Now her burgeoning baby bump, hormone-infused emotions, and faltering singing career are sending her into an unexpected identity crisis. Watching her older sister, Danica, glide through a major career change and a new relationship with the grace of a ballerina, Kaylie's insecurities rise to the forefront—and her relationship with fiancé Chaz Crew is caught in the crossfire. Chaz Crew has everything he's ever wanted: a lovely fiancée, a baby on the way, and soon, the film festival he owns will host its biggest event ever. When he's called away to woo the festival's largest sponsor—and the lover he's never admitted to having—secrets from his past turn his new life upside down. With her baby shower around the corner and her fiancé's big event looming, the pressure is on for Kaylie to pull herself together—and for Chaz to right his wrongs. In a few short weeks, the couple who had it all figured out will learn things about life and love that may change their minds—and their hearts.   Buy the book from Amazon.co.uk, Amazon.com, Barnes and Noble, KOBO
Book #3 Snow Sisters, Love in Bloom Series Sisters In White
Danica and Kaylie Snow are about to celebrate the biggest day of their lives—their double wedding—on an island in the Bahamas. But no wedding is complete without a little family drama. The two sisters aren't ready to face the father they haven't seen since he divorced their mother and moved away to marry his mistress, and live with Lacy, the half sister they've never met. While Danica has exchanged letters and phone calls with Lacy, Kaylie has fervently tried to pretend she doesn't exist. Lacy is sweet, fun, and nearly a mirror image of Kaylie. To make matters worse, not only is Lacy looking forward to meeting her sisters, but she idolizes them, too. As the countdown to the wedding date ticks on, their parents are playing a devious game of revenge, and there's a storm brewing over the island, threatening to cancel their perfect wedding. The sisters are about to find out if the bond of sisterhood really trumps all. Buy the book from Amazon.co.uk, Amazon.com, Barnes and Noble, KOBO
Book #4 The Bradens, Love in Bloom Series Lovers at Heart
You met Treat Braden and Max Armstrong in Sisters in White, Book Three of the Snow Sisters (Love in Bloom Series). Now fall in love with Treat and Max all over again, and see where their hearts take them next. Handsome, wealthy resort owner Treat Braden is used to getting what he wants. When Max Armstrong walked into his life six months earlier, he saw right through the efficient and capable façade she wore like a shield, to the sweet, sensual woman who lay beneath. She sparked an unfamiliar desire in him for more than a one-night stand, leaving his heart reeling and his blood boiling. But one mistake caused her to turn away, and now, after six months of longing for the one woman he cannot have, he's going home to try to forget her all together. Max Armstrong has a successful career, a comfortable lifestyle, and she's never needed a man to help her find her way—until Treat Braden caught her attention at a wedding in Nassau, causing a surge of emotions too reminiscent of the painful past she'd spent years trying to forget. Max will do anything to avoid reliving that pain—including forgoing her toe-curling, heart-pounding desire for Treat. When a chance encounter turns into a night of intense passion, Treat realizes that the mistake he made six months earlier may cause him to lose Max completely. He will do everything within his power to win her heart forever—and Max is forced to face her hurtful past head on for the man she cannot help but love. Buy the book from Amazon.co.uk, Amazon.com, Barnes and Noble, KOBO
  COMING SOON…………………..  
  Release Dates…… Friendship on Fire, Now Available, 2013 Sea of Love, Now Available Bursting with Love, February 9, 2014 Hearts at Play, March 9, 2014   NOW FOR THE AUTHOR'S GIVEAWAY !!
Three Lucky Winners will each receive ebooks for Lovers at Heart (Bk 1 of The Bradens) & the very first book of the Love In Bloom Series, Sisters In Love (Bk1 of the Snow Sisters)   Ending on Sunday 22nd December at 11.59pm EST Open Worldwide   Enter Below & Good Luck !! a Rafflecopter giveaway
Barbara's vivid and dramatic stories, told with a wicked sense of humor, will make you laugh out loud. She definitely gets what living with rescued dogs (nine of them!) is all about.
When Barbara meets her future husband, Ray, it is love-and dog-at first sight. Over the course of thirty-two years, seventeen relocations and nine dogs, their mutual love of dogs guides them on their unconventional path. The love that Barbara and Ray get in return is literally lifesaving, with one dog attacking a lethal intruder and another discovering Barbara's cancer. Her own survival story underscores the story of how her dogs become survivors themselves.
Each new dog adds its own dynamic to the family, sometimes upending it. From Turbo (whose Spock-like ears may have provided super powers), Barbara learns about the will to live; Lexington demonstrates incredible patience and an inexplicable love of golf; Madison teaches that laughter is truly the best medicine and that the whole "nine lives thing" is not reserved just for cats; Morgan should be sainted for tolerating Izzy, who is as cute as she is bad. Barbara is certain that somewhere in doggie heaven there is a poster that says "If you are sick, injured or in need of really expensive medical care, FIND THESE HUMANS!"
Throughout 2012 and 2013, Dog-Ma has been on the Bestseller lists of Kindle, Amazon and Goodreads as well as being named as a finalist in the 2013 Next Generation Indie Book Awards in the animal/pet category and presented with a medal at the Harvard Club in New York City – May 2013.
Buy the Book…….
Amazon.co.uk
Amazon.com
Barnes and Noble
Kobo
About the Author
Award Winning Author, Barbara Brunner grew up in Lancaster County, Pennsylvania with her parents, sister and always a dog, or two or three. She graduated Summa Cum Laude from a small women's college in Bryn Mawr, Pennsylvania. Meeting her husband in Washington, DC, they continued together on a journey as self-proclaimed dog addicts. In the ensuing years, she founded three successful businesses in the Pacific Northwest and is a prolific fundraiser for breast cancer research. She and her husband are retired and now reside in Southwest Florida with two dogs and copious amounts of dog fur. She is currently working on indulging her well known flip flop addiction.
Barbara is available for book readings, autographing and speaking engagements and may be scheduled for your book or dog event.
Follow the Author…
Website, Blog, Facebook, Twitter, Pinterest and Goodreads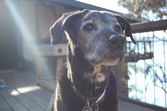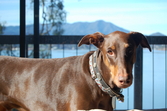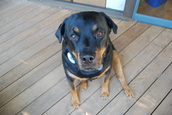 "My inspiration for writing this book was driven by pure emotion and my desire to invite the reader to step into the journey of my utterly insane true-life stories." – Barbara Boswell Brunner, Author, dog-ma
Book Tour Dates
I received this book to review through Beck Valley Books Book Tours, all the opinions above are 100% my own.